Blood Penetration Tester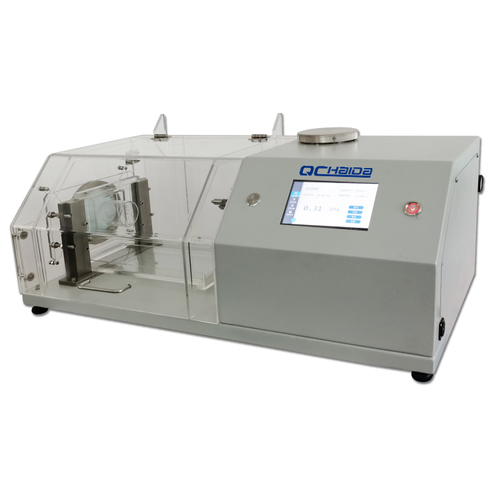 Blood Penetration Tester
Product Description
Products description:Mask synthetic hemodialysis testing machine
is used to measure the penetration force of synthetic blood under different test pressures to evaluate the resistance of surgical mask to synthetic blood penetration.
Meeting Standards:
1.GB 19083-2010 Technical requirements for medical protective masks.
2.YY/T 0691-2008 Test method for resistance to synthetic blood penetration of medical mask for protective equipment against infectious pathogens (fixed volume, horizontal injection).
3.Yy0469-2011 Medical surgical mask technical requirements, blood penetration test device.
Features:
1.The protruding sample fixing device can simulate the actual use state of the mask, leave the test target area without destroying the sample, and distribute the synthetic blood in the target area of the sample.
2.Special fixed pressure injection device can eject a certain volume of synthetic blood in a controlled time.
3.It can fully simulate the injection velocity corresponding to the average blood pressure of human body of 10.6kpa, 16kPa and 21.3kpa.
4.The instrument is equipped with a fixed target plate, which can block the high-pressure edge part of the injected liquid flow, and only allow the steady flow part to be sprayed on the sample, which increases the speed and repeatability of the sprayed liquid on the sample.
5.The sample table is processed with special aluminum profiles, which are light in material, clean in surface and free from rust.
6.The test tank is equipped with special fixed device, convenient for customers to operate.
7.The test tank is made of high quality 316 stainless steel, and the top is equipped with a special cover for high transparency and strength protection
8.Square metal retarding net: open space ≥50%, bending ≤5mm at 30kPa.
9.Instrument time control accuracy ≤ 0.1 seconds.
10.The shell of the machine is made of high quality metal paint.
Contact Us
73, Nelson Road, Aminjikarai,, Chennai, Tamil Nadu, 600029, India
Phone :+918037266816